Our Story
How they met (Her Story)
Mike and I were introduced through mutual friends. Our friends tried, unsuccessfully, to introduce us on three separate occasions. I certainly did not make it easy on them! If we are being honest, I was not convinced that this South Florida, FSU Grad, who wore board shorts and flat bills, was my type of guy. I actually backed out on our dates 3 times, but the 4th time's the charm! We finally were introduced on November 16, 2016. Our mutual friends brought Mike to a happy hour they knew I was at and forced us to meet and talk to each other. Thank God for them! We have been together ever since!
How they met (His Story)
My roommate's girlfriend at the time knew me from college and had worked with Jessie before. She knew Jessie and I would hit it off immediately if we were to ever meet. That was harder than you would think! Jessie is a Southern Peach and my "style" was not ideal. People say don't judge a book by it's cover, and well, once Jessie met me she was able to get past my flat bills and Yankee accent. It also helped that we went to Johnny's Hideaway and I was able to swoon her with my dance moves!
How He Asked
Mike and I had been down in Ft. Lauderdale visiting his family for the Christmas/New Years Holidays. On the morning of January 2nd, he woke me up at 6am and told me to pack a bag, that we were going out of town for the night. Our 2 year dating anniversary was the next week, January 10th, and I was due to be out of town for work. He said he planned this little getaway to celebrate our anniversary early because he knew I was upset that I would be out of town on the actual date. Once he said this, I was totally sold, and did not think anything of this last minute trip!
Mike and I began the drive down to Key West. Upon arrival, we checked into our hotel, dropped our bags, and headed out to explore the town. We had "dinner reservations" at 5pm that night so after wandering Duval Street for a few hours, we headed back to the hotel to get ready. We were going to a "really nice steak house" so Mike encouraged me to dress to impress! We left to walk to dinner, and in typical Jessie fashion, I got impatient and began walking ahead of Mike. I spotted the gates to a private, pedestrian-only road that led to Harry Truman's Little White House and I hollered for Mike to come over. I told him that we were going to be early to dinner and I wanted to go check out the Little White House since we had some spare time. Mike "checked his GPS" and told me that we could actually cut through the Little White House grounds to get to the restaurant, so he was okay with taking a quick detour. As we walked down the road, the Little White House was to our left, and a secluded fountain/garden was to the right. I began walking towards the house, and Mike tugged my hand and told me we had to go to the fountain. I was so confused because we had just talked about going to see the house! I spied a historical marker near the fountain and thought to myself, "This is what Mike wanted to see!" I passed by the fountain and walked up to read the sign, only to soon realize that Mike was no longer beside me. I turned around, confused, and Mike was standing front and center at the fountain. I walked up to him and asked him what was going on... and that's when he took my hands and said, "Dinner is a little later, I wanted to bring you out here for a different reason..." and dropped to one knee!

I was TOTALLY surprised! After all, I was the one who had suggested that we check out the Little White House in the first place! Mike thought of every little detail, he even had a photographer hiding out who took pictures of the whole thing. After the big moment, we watched the sunset from Mallory Square and Facetimed all of our friends and family, before finally heading to that "really nice steak dinner!"
Our Wedding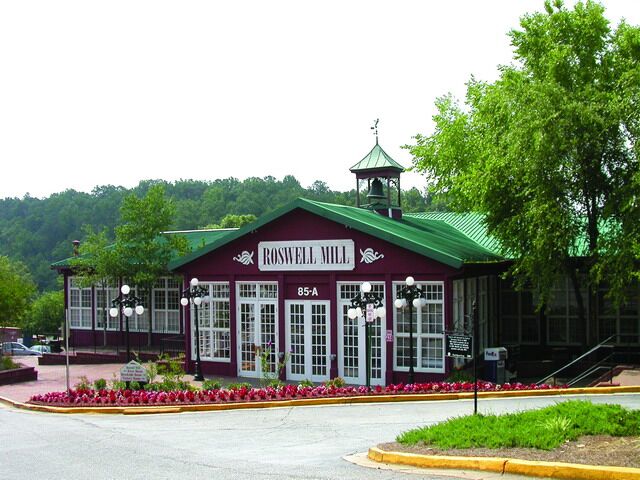 Friday, November 1, 2019
5:30 PM
Attire: Formal
Ceremony and Reception
Ivy Hall
85 Mill Street, Roswell, GA
Parking is available at the venue, but guests are encouraged to take the shuttle provided at the Best Western or Uber.
Welcome Party
A Toast to the Bride & Groom
Thursday, October 31, 2019
9:00 PM - 12:00 AM
Mac McGee
936 Canton Street, Roswell, GA, 30076, United States
We'd love to welcome our guests, both local and out of town, to celebrate Halloween and kick off our wedding festivities with us! After the Rehearsal Dinner, the wedding party will be heading to Mac McGee's on Canton Street. If you're in town already, please join us! We will have a bar tab and all are welcome. Venue is 21+ and costumes are invited!
Wedding Party
Hailey Ostendorf - Matron of Honor
Danielle Mobley - Bridesmaid
Megan Amundson - Bridesmaid
Jackson Crook - Bridesmaid
Maggie Martin - Junior Bridesmaid
Gwen Negron - Junior Bridesmaid
Liz Negron - Junior Bridesmaid
Victoria Negron - Flower Girl
Conner McCloskey - Groomsman
Alex Ostendorf - Groomsman
Matt Gazzillo - Groomsman
Scott Carswell Jr. - Groomsman
Barrett Mobley - Ring Bearer